Great Masters | Vittorio Gregotti
Vittorio Gregotti (portrait)
Born in Novara in 1927 to a family with a history as textile industrialists dating back to 1870, like all good middle-class children, he obtained a classical high school diploma. He then pursued his passion for music by attending the conservatory. Music led him to reflect on architecture "as music and architecture are two very similar things; they are both very communicative but not very informative or descriptive". (1)
He was fortunate to have parents who allowed him to travel, as this enabled him to gain a variety of experiences. He told of how Elio Vittorini spoiled him by inviting him to speak more with writers, philosophers, and journalists than with his fellow architects.
His friends included Emilio Tadini, Picasso, Salvador Dalì, Umberto Eco, and Luciano Boerio. In 1951, he took part in CIAM, the International Congress of Modern Architecture, in Hoddesdon, which was also attended by Le Corbusier and Gropius. A letter from Gropius was framed in his studio. These encounters were a turning point for his profession. During his university years, Vittorio Gregotti, together with Gae Aulenti, was an assistant to Ernesto Nathan Rogers.  He graduated in architecture in 1952 from the Politecnico di Milano and joined the BBPR studio with Ernesto Nathan Rogers, the man he would always consider his teacher. Together with him, in 1951, he designed his first room at Triennale Milano, taking him to the CIAM in London.
(1980 – View from the windows London house – Vittorio Gregotti)
From 1953 to 1955, he was an editor at Casabella. In an interview for Rai Educational, Vittorio Gregotti said:
"During my years at Casabella, between 1953 and 1963-65, Italian industrial design was undergoing a period of great international success. All the great designers arose around that time, from Sottsass and Magistretti to Castiglioni and Zanuso; a remarkable number of figures that fit right into this very special culture, which had architectural origins and moved from architecture to industrial design. Throughout Europe, on the other hand, the problem was that industrial design became a specialized profession separate from that of the architect. Perhaps it is in this kind of union between the two elements that the secret to Italian success in the 1960s lies" (2).
From 1953 to 1969, he collaborated with Lodovico Meneghetti and Giotto Stoppino. The Architetti Associati studio was an important benchmark in national culture and focused architectural critique.
They were active in the fields of architecture, urban planning, interior furnishing, and design. In 1967, they designed the "Equilibrium Table Lamp" (model 537) for Arteluce, a minute tilting table lamp, present today in the permanent collection of the MoMA in New York, together with their Floor Lamp (model 1008) from 1966.
Gregotti claimed that his origins were closer to an industrial, rather than decorative arts culture. He was productive in his career as an Italian light designer.
(1967 – "Equilibrium table lamp" table lamp model 537 for Arteluce – Gregotti, Meneghetti and Stoppini)
(1960 – "Bino" table lamp for Candle – Gregotti, Meneghetti and Stoppini)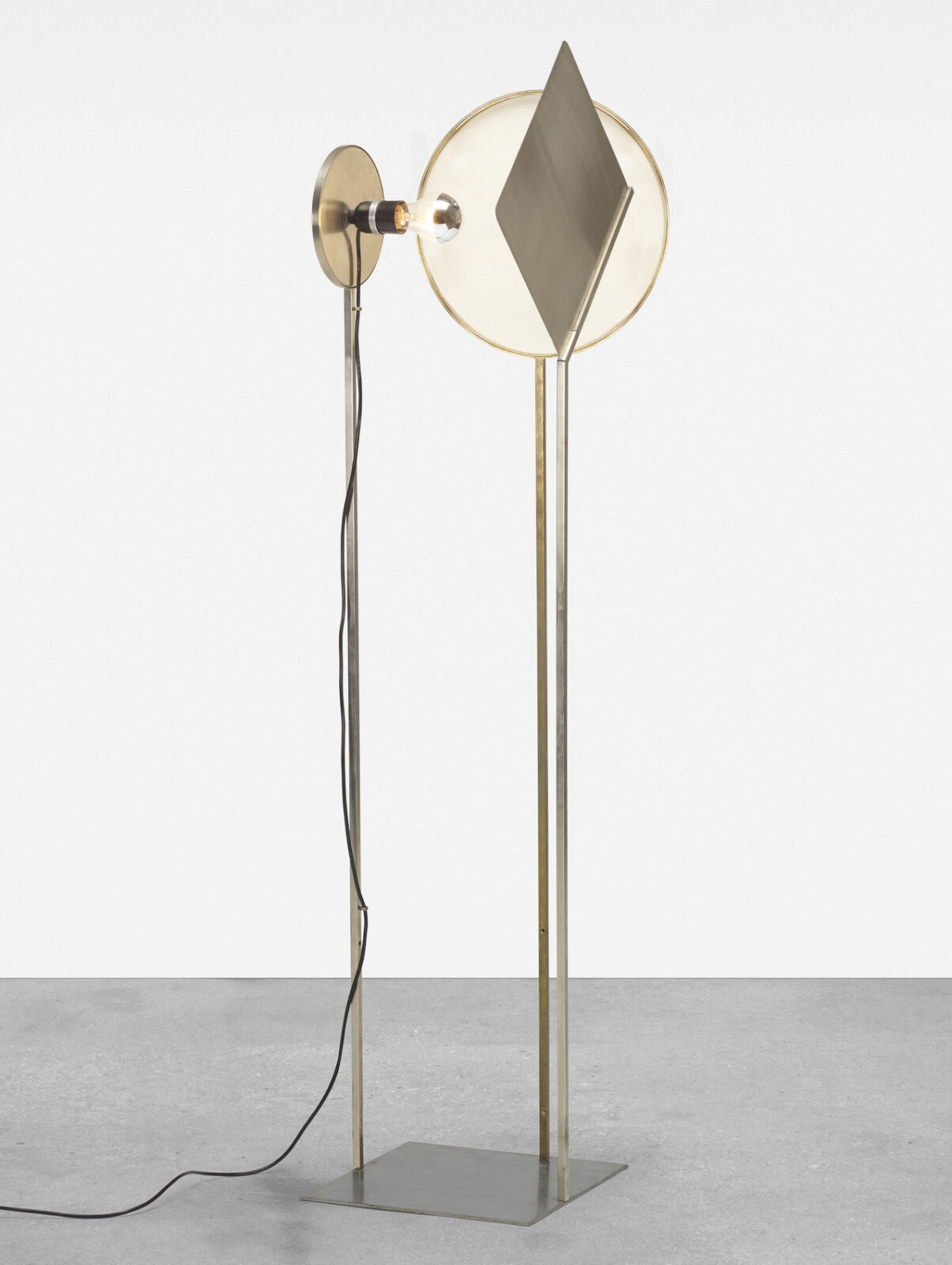 (1970 – "Shin" floor lamp – Vittorio Gregotti) – (1971 – "Amalasunta" floor lamp for Bilumen – Vittorio Gregotti)
1960 – Lampada da terra "2051" per Arteluce – Gregotti, Meneghetti e Stoppini
1975 – "Tricia" floor lamp for Valenti Luce – Vittorio Gregotti
1980 – "Figura" table lamp for FontanaArte – Gregotti Associati
1988 – "New sign three" floor lamp for FontanaArte – Gregotti Associati – Pierluigi Cerri
1993 – Floor, table and "Sara" wall lamp for FontanaArte – Gregotti Associati – Pierluigi Cerri
In 1974, he set up Gregotti Associati, where the young architects Pierluigi Cerri, Pierluigi Nicolin, Japanese architect Hiromichi Matsui, and the Argentinian architect Bruno Viganò became partners. The wager was to promote a design studio capable of addressing the various disciplinary fields with methodological and professional unity. "The search for the rule" is a goal that the studio applies at various design scales to achieve an integral project.

His professional and personal relationship with Livio Castiglioni (1911-1979) led to his first collaborations on Italian lighting and international lighting projects: these included the Missoni Boutique in Bilbao, the Marisa Boutique in Milan, and the "Carrozzeria Italiana" exhibition at Palazzo Promotrice in Turin.

As Le Corbusier argued, "Architecture is the skillful, rigorous, and magnificent play of volumes under light." The relationship between architecture, daylight, and architectural lighting is unbreakable.
After Livio Castiglioni's death, Vittorio Gregotti continued his collaboration with the Piero Castiglioni Studio, leading to the light projects:
1979 – Italy – Milan – Villa Comunale – Contemporary Art Pavilion – General lighting
1985 – Italy – Milan – Formentini Cultural Center – "Bach's vigil" E. Isgrò – General lighting
1991 – Italy – Bergamo – Carrara Academy – General interior lighting
1992 – Italy – Milan – Neglia Showroom – General lighting
1992 – Portugal – Lisbon –

Belem Cultural Center

– General interior and exterior lighting
(1992 – Portugal – Lisbon – Belem Cultural Center – General interior and exterior lighting)
"The problem was addressing the issue of monumentality when faced with a city that had very strong historical solidity, and at the same time thinking about how to deal with that part of the city. For us, the big problem was not that of an individual monument, but rather, a new totality of the potential city, which had to use that precise position and that articulation to have and receive changes and different phases inside it. We have had many different approaches because there is a relationship with the monumental square and with the church, and a relationship, on the other hand, with the uphill part, the one towards the sea, let's say, which had a very different nature. They were all elements that enabled articulation, the difficult thing was giving this articulation unity." (3)
A difficult challenge therefore, which recalls other complementary ones such as the lighting for the Saint Pierre cathedral in Geneva or the Chi Lin Nunnery (both followed by Marco Petrucci)
1994 – Italy – Milan – Brera Academy – Napoleonic Room – General lighting
2001 – Italy – Turin – Passante Ferroviario – General lighting
2002 – Italy – Milan –

Arcimboldi Theater

– General internal and external lighting
(2002 – Italy – Milan – Arcimboldi Theater – Aerial view)
The new Teatro degli Arcimboldi in the former industrial area La Bicocca, a suburb of Milan, was inaugurated in early 2002. The structure of the building is made up of three clearly recognizable volumes: the common areas (entrance, ticket office, and foyer), the theater, and the fly tower. Composed of a large curved and inclined window, with a canopy marking the public entrance, the new project is located in a square.
(2002 – Italy – Milan – Arcimboldi Theater – Hall)
Inside, the large glass wall rises to the ceiling: steel pillars are arranged around the hall, which houses the ticket office, the bookshop, the cloakroom, and the stair blocks. The balconies of the stalls and galleries overlook this area. The lighting is provided by fixtures incorporated or built into the architectural features. These are equipped with low-voltage lamps of various intensities and beam emissions. Specially designed devices made from a crown with 12 dichroic lamps surround each steel column of the entrance hall and the first level of balconies; these provide the general lighting of the rooms and create brilliant reflections in the large glass wall. For the night architectural lighting, "Radius" luminaires were installed on the central beam of the entrance canopy to light the roof surface brightly and evenly, thus creating a strong and inviting landmark. Glass panels, used both to adjust the sound reflection onto the audience and to diffuse the light, supply some light in the concert hall.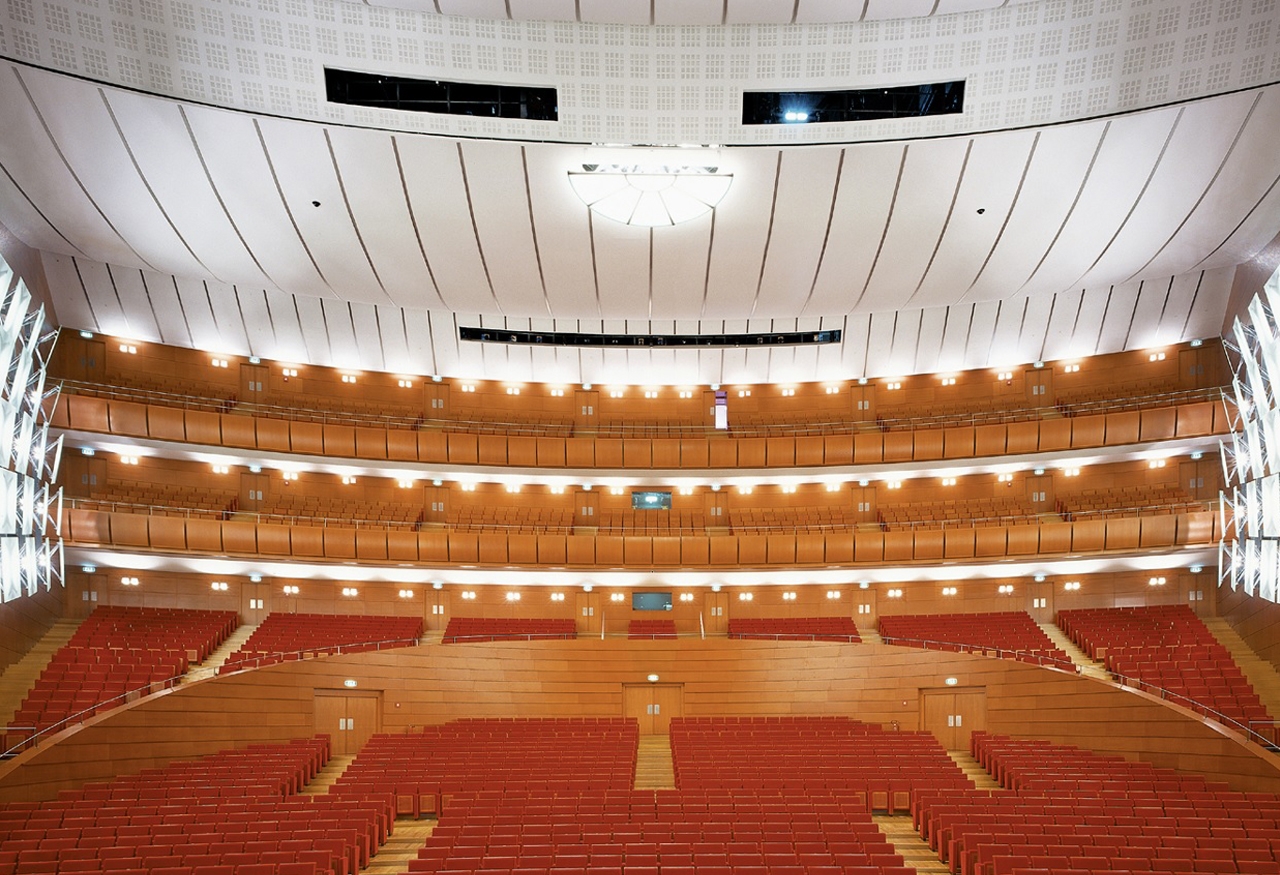 (2002 – Italy – Milan – Arcimboldi Theater – Auditorium)
The wooden walls of the balconies house built-in devices with compact fluorescent lamps while a large, specially designed semicircular chandelier with five sections of laminated glass panes held in place by a metal structure uses 118 halogen lamps to provide the general and overhead lighting to the audience.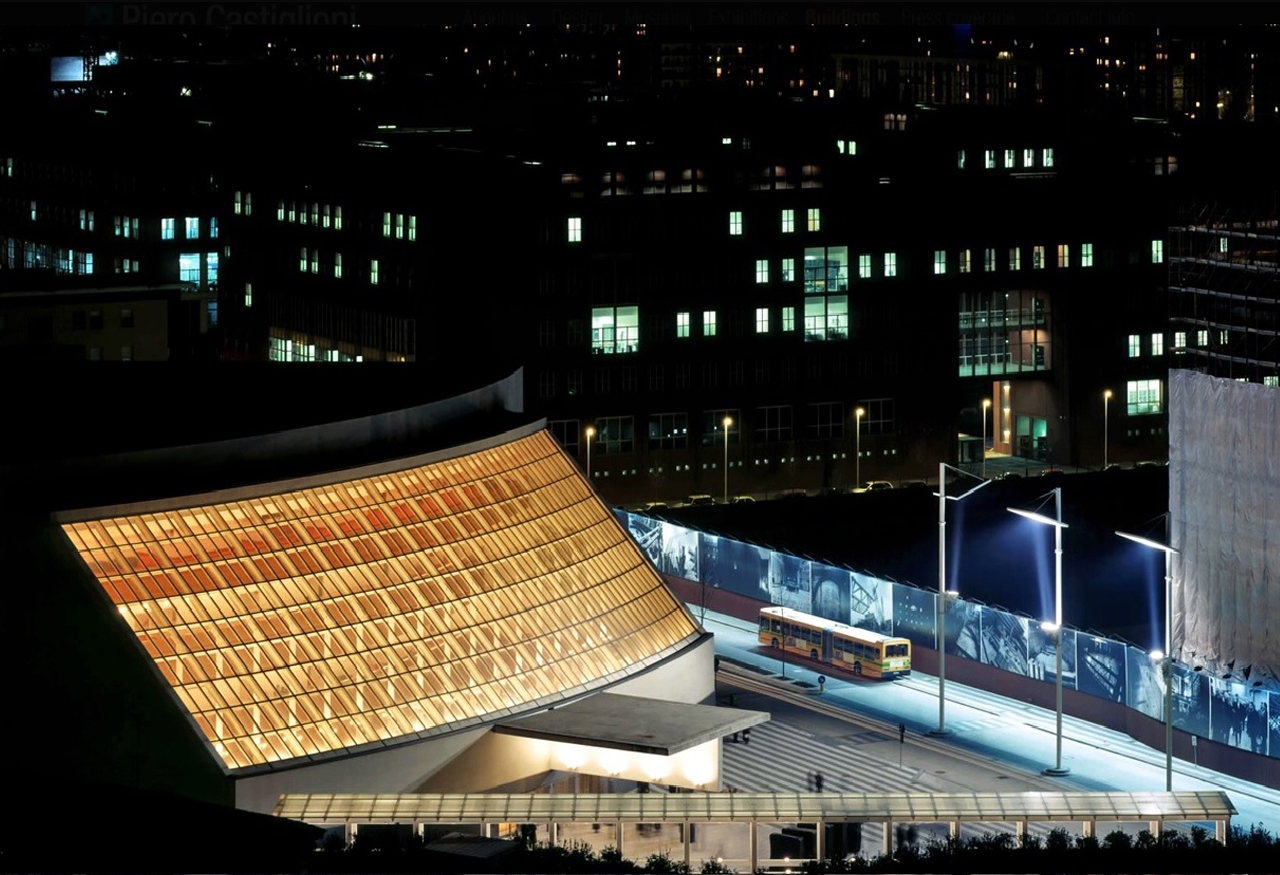 (2002 – Italy – Milan – Arcimboldi Theater – Night view)
This Italian lighting work was the result of a close partnership between the two professionals. The numerous desktop meetings between Castiglioni and Gregotti led to a light project that integrated artificial light with the architecture.
2005 – Italy – Brescia – Sbim – General lighting
2006 – Italy – Casalbeltrame, Novara – Villa Gautieri – Gipsoteca – General lighting
2006 – France – Pays d'Aix –

The Hall of shows Pays d'Aix

– General Lighting
(2006 – France – Pays d'Aix – The Hall of shows Pays d'Aix – General Lighting)
In 2012, at the Triennale di Milano, he was awarded the Gold Medal for Lifetime Achievement, together with Gae Aulenti. Gaaae (as he called her, lengthening the A) was born in the same year and graduated with the same teacher: Ernesto Nathan Rogers; this event sparked a strong friendship, mutual respect, and continuous challenges in national and international architecture competitions.
(Venice – Grassi Palace – Vittorio Gregotti, Gae Aulenti e Cesare Romiti)
Bibliography:
(1) Raiplay – Intervista con Vittorio Gregotti architetto e saggista italiano – 2011
(2) http://www.educational.rai.it/lezionididesign/designers/GREGOTTIV.htm
(3) L'ultima intervista a Vittorio Gregotti, dall'amicizia con Álvaro Siza all'antropogeografia a cura di Nuno Grande e Roberto Cremascoli – 22 Novembre 2017