Great Masters | Cini Boeri
Cini Boeri (portrait)
"I have always been interested in people and their behaviour. I am a great observer, when I design I like to get in tune with the clients and understand their needs and desires to try to provide them with the best possible solution. " (1) Cini Boeri
Cini Boeri and the Via Presolana 5 Studio
"Livio, brilliant, unpredictable, very funny friend. A polyglot, in Bilbao when he worked for me on a large showroom, he spoke his Spanish, which was a mixture of Genoese and Venetian, his French was Milanese enriched with strange accents, his Italian was often a warm and friendly Milanese. He created the 'spark' for my work and I am very proud of that. He taught me to play with light, and with him I realised what an important element it was in architecture. Generous in his genius, he would appear as soon as he was called and enthusiastically draw you into the invention of the moment. But he disappeared twenty years ago, so trivially, so accidentally, to the great sorrow of all of us who knew him". (2) Cini Boeri
Collaboration continued with Piero Castiglioni. Among the projects: Mosel Showroom in Bilbao (1975), Seat Knoll International Showroom in Foligno (1984), Shearson Lehman in Milan (1987), Venini Showroom in Frankfurt (1987), Venini Shop in Venice (1988), Casa del Sorbo in Milan (1990), Private House in Como (1991), Aldo Citterio Showroom via Orefici in Milan (1991), Palazzo dell'Arte Triennale in Milan (1994).
Among the first women in the world of architecture and design
Considered one of the first women in the world of architecture and design of the last century like Gae Aulenti.
(Sofa "Serpentone" for Arflex – Cini Boeri – Photo courtesy: Pinterest)
Cini waited until the end of the Second World War to attend the Milan Polytechnic in 1945. She recounts in an interview by Ilaria Defilippo on 20 October 2017 for Il Sole24Ore: "The art history teacher told me that with curls you couldn't be an architect. At the time we were very few girls, if I remember correctly, only nine. We drew with white coats and in the classroom the words "Rationalism" and "Modernism" were still far away. It was only at the end of my studies that the teachers started talking about Le Corbusier. (3) Graduated from Milan Polytechnic in 1951. Apprenticed to Gio Ponti. After Ponti, Cini worked for Philco, an American company that imported kitchens. Thanks to Philco's stand at the Salone del Mobile in 1952, Cini was noticed by Marco Zanuso: "He asked me about the products and immediately afterwards suggested I go and work for him". A collaboration that lasted from 1952 to 1963. "These were very important years in my training, when I learned that every job had to begin with a psychological study of the client. With Zanuso I finally started working on an exciting architectural project, the Asilo per madri nubili (Kindergarten for single mothers) at Lorenteggio. When I started, I remember that I didn't have great technical skills – the university had taught us very little -, the workers would ask me "architect, how do we make the skirting board?" and I would reply "how would you make it?". So I began to respect them and to be respected". (3) She began to collaborate with Arflex for which she designed Borgogna (1964), the rest armchair. An armchair equipped with a notepad, telephone, light and lectern. In this period where the ways of living have changed due to the Covid-19, it could be a comfortable workstation for smart working. For Arfelx he designed the Bobo modular armchair (1967) and the Serpentone sofa (1971),
(1971 – "Serpentone" sofa for Arflex – Cini Boeri – Photo courtesy: Pinterest)
Pecorelle armchairs (1972), Botolo and Botolino armchairs (1973), Ben Ben modular sofa (2009) and Ledletto (2014). Arflex is a furniture company founded in 1950. It was founded by Aldo Bay, Pio Reggiani and Aldo Barassi to experiment with the new Pirelli materials: foam rubber and elastic tape, in the field of furniture. Marco Zanuso, BBPR, Franco Albini, Giancarlo De Carlo, Joe Colombo, Pierluigi Spadolini, Roberto Menghi and many other famous architects and designers collaborated for Arflex. She followed the advice of Franca Helg and Anna Castelli Ferrieri and decided to start his own professional activity in 1963. Since 1979 Cini Boeri has been part of the Boeri Associati studio, formed by Laura Griziotti, Sandro Ronzoni, Tomu Katayanagi and Erberta Marina. She devotes particular attention to the study of the functionality of the home, offering new possibilities. Together with Griziotti, he designed the Strip bed (1972), which won the Compasso d'Oro award in 1979. From 1981 to 1983 at the Milan Polytechnic, she held courses in "architectural design" and "industrial design and furnishing". Member of the Board of Directors of the XVI Triennale di Milano. In the field of industrial design, her projects aim to improve the way of life, a theme that Boeri discusses in her book Le dimensioni umane dell'abitazione, by Franco Angeli, a contribution to the exhibition "Progetto domestico" at the XVII Milan Triennale in 1986. (4) In 1987, together with his collaborator Tomu Katayanagi, she designed the Ghost armchair for Fiam. A curved glass armchair. Bruno Munari described it as "the petrification of a ribbon of water, almost the abstract solidification of an idea, where technology can rhyme with poetry". This object, which has become an icon of Italian design, was chosen for the "Quirinale Contemporaneo" project at Palazzo del Quirinale.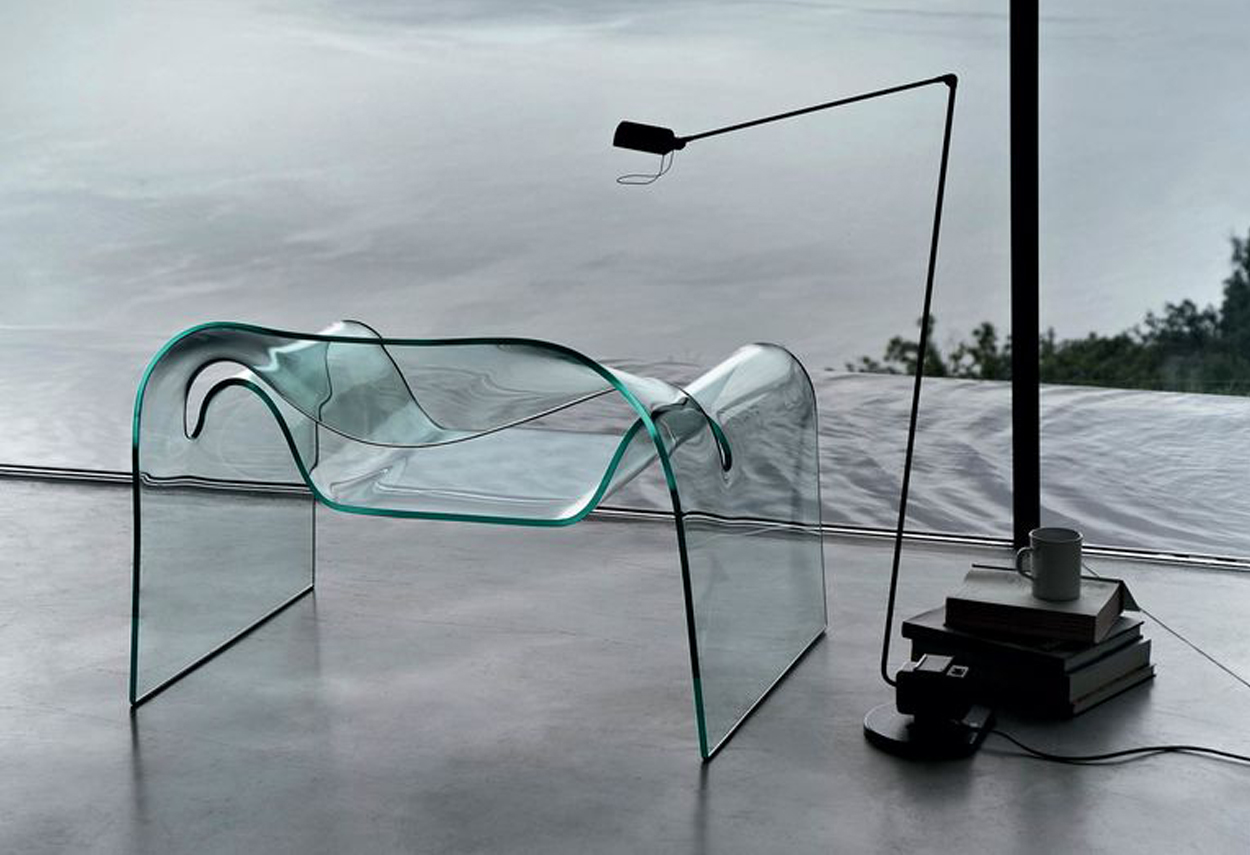 (1987 – "Ghost" armchair for Fiam – Cini Boeri – Photo courtesy: Pinterest)
During her career he has designed single-family houses, flats, museum displays, offices, shops and design objects, exhibited in major international museums. Sensitive to the study of the functionality of space and the psychological relationships between man and his environment. In an interview by Margerita Guccione for Domus on 9 May 1992 Cini Boeri says: "Let us remember that we are "architects", not stylists, not decorators. In fact, we must remember that the architecture that surrounds and contains people's lives can help them live better. But when I design, I never remember whether I am a woman or a man". (5) In 2011, during the XXII Compasso d'Oro ADI, he received the Compassi d'Oro alla Carriera.
Architecture
( Cini Boeri – Portrait 2 – Photo courtesy: Pinterest)
Her projects reveal a focus on man's physical and psychological needs. The Asilo per madri nubili (Kindergarten for single mothers) at Lorenteggio is one of his first works with Zanuso, where she designed extraordinary, colourful interiors and objects (1955 – 1956). The "Bunker House" at La Maddalena (1967). The "Casa nel bosco" (1969) "The woods were so beautiful that I thought I wouldn't disturb them, so I created a plant that would grow around the trees, trying to cut down as few as possible" (6) This project underlines his sensitivity to the relationship between man and the environment. In 1976 he designed the showroom for the American brand Knoll International in Paris. In New York, she designed the interior of a flat on the 56th floor of Trump Tower (1986-1988). She designed a flat in Tel Aviv for an art collector (2011-2014).
Light and Design
1968 – "602" table lamp for Arteluce – Cini Boeri
(1968 – "602" table lamp for Arteluce – Cini Boeri – Photo courtesy: Arteluce catalogue)
1970 – "Abat-jour" table lamp for Arteluce – Cini Boeri
1971 – "Papero" table lamp for Stilnovo – Cini Boeri
(1971 – "Papero" table lamp for Stilnovo – Cin Boeri – Photo courtesy: Pinterest)
1977 – "2401 Lucetta" table lamp for Stilnovo – Cini Boeri
(1977 – "2401 Lucetta" table lamp for Stilnovo – Cin Boeri – Photo courtesy: Catalogo Stilnovo Lampade per Arredamento N°40)
1986 – "Brontes" table lamp for Artemide – Cini Boeri
(1986 – "Brontes" table lamp for Artemide – Cin Boeri – Photo courtesy: Pinterest)
1989 – "Felt" hanging lamp for Venini – Cini Boeri
Bibliography:
(1) https://www.objectsmag.it/cini-boeri-architetto-e-designer-ma-soprattutto-donna/
(2) Published on Flare – Architectural Lighting Magazine – n°22 – DECEMBER 1999 – page 87
(3) https://alleyoop.ilsole24ore.com/2017/10/20/scardinare-le-tradizioni-in-un-mondo-tutto-di-uomini-conversazione-con-cini-boeri/
(4) Anty Pansera. Dictionary of Italian Design, Milan, 1995, Cantini Editore
(5) https://www.domusweb.it/it/interviste/2012/05/09/cini-boeri-progettare-e-una-gioia-ma-anche-un-impegno.html
(6) http://www.ciniboeriarchitetti.com/architettura/bosco.html